Dorothy Dietrich Becomes The First Women to Perform
The Official Original Parent Assembly #1
annual Houdini Broken Wand Ceremony at his grave on November 1, 2018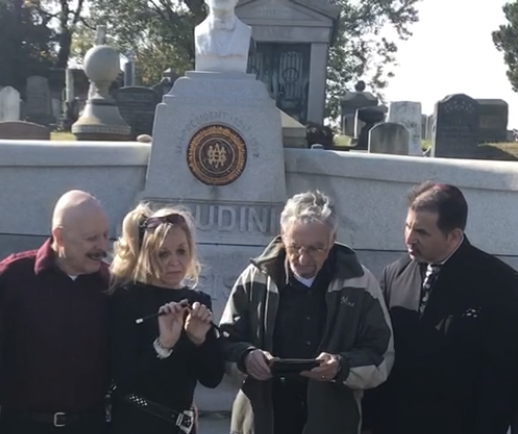 Dick Brookz-Dorothy Dietrich-George Schindler-Benjilini
The first broken wand ceremony was held in 1926, after the death of Harry Houdini.
The Society of American Magicians continues to hold an annual ceremony at Houdini's gravesite in Machpelah Cemetery on the Jewish Anniversary of his death.

The broken wand ceremony is a ritual performed at the funeral of a magician, in which a wand -
either the wand which the magician used in performances,
or a ceremonial one-is broken, indicating that with the magician's death, the wand has lost its magic.
It continues yearly, originally done for the death of Harry Houdini in 1926.
The symbolism is that without the magician, the wand no longer has the magic and so it is broken.
It is now replicated when any magician dies anywhere in the world, and at his or his families request.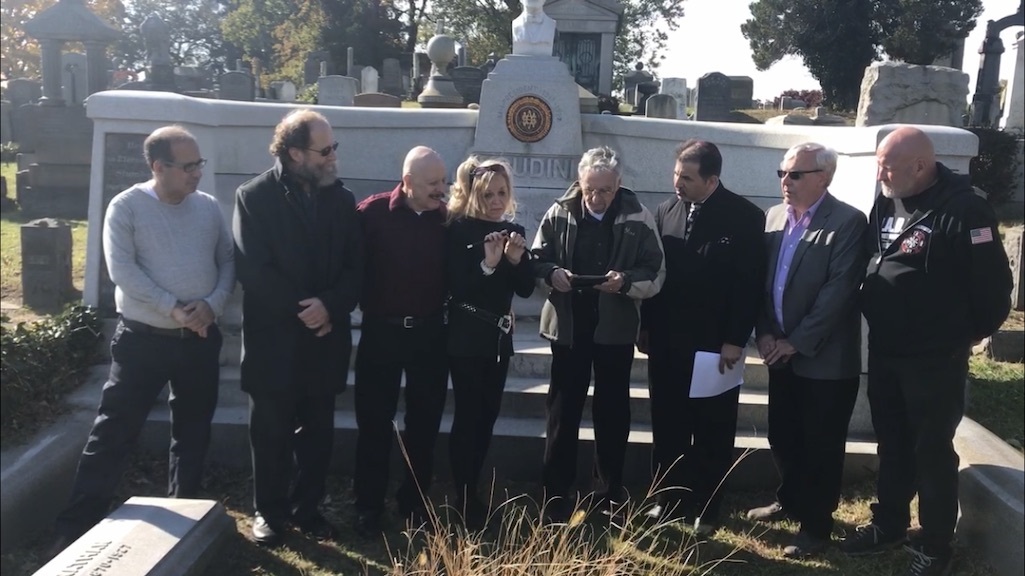 Jordan Linker- Richard Cohn-Dick Brookz-Dorothy Dietrich-George Schindler-Benjilini-Rene Clement-Keith Kaiser

The Society of American Magicians Cover story and 8 page biography about Dorothy Dietrich
Page 1 with pictures. Page 2 with pictures. Page 3 with pictures, Page 4 with pictures, Page 5 with pictures, Page 6 with pictures, Page 7 with pictures, Page 8 with pictures. Go to
New YorkTimes Dorothy Dietrich Feature Story
Go to
Dorothy_Dietrich_US_Magazine Feature Story
Go to
Dorothy Dietrich First Woman To Do The Original Official Broken Wand Ceremony For Houdini.
Go to
First Lady Of Magic-Female Houdini-Weekly World News
Go to
the photo session that made one of her posters possible.
Go to
Ron Walotsky: the world famous fantasy artist who painted this poster. He also did covers for Conan the Barbarian.
For availability call The Houdini Museum at (570) 342-5555
Go to
Magician Dietrich with celebrities such as Robert Klein, Muhammed Ali, Tony Curtis, Kiss, Tom Snyder, Bill Cosby, John Lennon, Yoko Ono, David Copperfield, Doug Henning, etc
Go to
Magician Dietrich with some of her pet animals.
Go to
Magician Dietrich's exhibit at The Houdini Magic Hall of Fame in Niagara Falls before it burned down
Go to
Magician Dorothy Dietrich's performing and winning first prize at the New York City Book Fair and representing Harper Collins new book by author Kenneth Silverman, "Houdini!!!".
Go to
some of Magician Dorothy Dietrich's television appearances.
Go to
Magician escape artist Female Houdini (tm) Dorothy Dietrich doing a daredevil style upside down Straight Jacket Escape 150 feet above the earth suspended from a burning rope after being put in by police and security guards. The only woman in history to do this stunt.
Go to
Female Magician Dietrich doing the famous jinxed bullet catch stunt at Resorts International, the stunt that has killed twelve men, and injured many others. She is the first and only woman to ever catch a bullet in her mouth. Dare devil/magician Houdini backed away from doing this stunt!

Go to
Woman Magician Dietrich doing the Jinxed Bullet Catch Stunt for the International Brotherhood of Magicians.
Go to
The Famous Houdini Museum, of which Dorothy Dietrich is a director..