Dorothy Dietrich
Featured in Women In American History by Pat Lamphier
Dietrich, Dorothy (1969-) Third-Wave Feminism (1990-Present) Page 287 (1 of 2)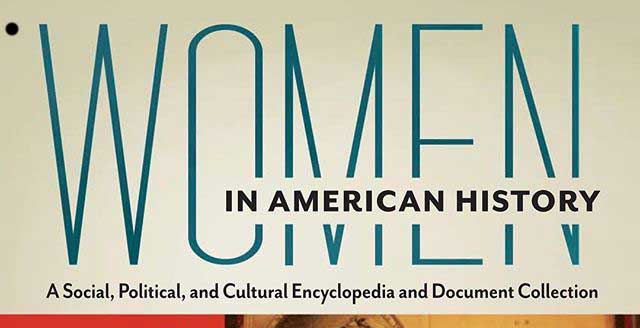 "An accomplished magician and escapologist, Dorothy Dietrich is renowned for her work as the "female Houdini." She is the only woman to have performed the bullet catch with her mouth and set a world record for performing a Straitjacket escape while suspended hundreds of feet from a burning rope. Dietrich has dupli- rated several of Harry Houdini's original escapes. She is considered a world-class magician and has paved the way for women in the male-dominated fields of magic and escapology. Dietrich was born on Halloween in 1969 in Erie. Pennsylvania. Her brothers often had her play the tiedup damsel in distress during childhood games but she learned to escape her bonds. As a girl she began reading books on Houdini. who became her idol. Dietrich learned her tricks and escapes mostly from books. When she was 13 years old she ran away to New Yotk City to escape her abusive father. Her first break came while working in a variety show in a working-class venue in Times Square. Concurrently she worked for the Parent Assembly of the Society of American Magiclans with well-known magicians such as Russell Swann and Walter B. Gibson. who mentored the development of her skills. She also studied with AI Flosso. a onetime regular on The Ed Sullivan Show, as well as Jack London and Lou Lancaster. By the late 1980s and early 1990s Dietrich had become a favorite act with New York booking agents

.

Dietrich performed in nightclubs, resort hotels, trad shows. and college auditoriums. She created a routine with several types of animals, including doves, rabbits, and poodles. She became noted for her expertise as a dove worker. Dietrich also developed acts that few women attempted, including sawing men in half, escaping from a straitjacket, and levitating people chosen from the audience. Along with Dick Brookz, Dietrich was a founder of New York's Magic Towne House, a popular attraction in New York City that became the longest running magic show in the city's history. The Magjc Towne House also became an important performance venue for many aspiring magicians. Dietrich is best known for her death-defying escape from a straitjacket while suspended 15 stories high from a buning rope and without a net, which she performed for an HBO special. She is one of five people in the world attempt the feat and the only woman to accomplish it. In addition, she successfully performed the bullet catch. She caught at .22-caliber bullet in a metal cup in her mouth at the International Brotherhood of Magicians Convention. The stunt had killed 12 men, and Houdini considered it too dangerous to attempt. In 1988 Dietrich performed the bullet catch at Donald Trump's Resorts International's 10th anniversary in Atlantic City. The act was televised"
This above is the text of the article for use by the visually impared.
---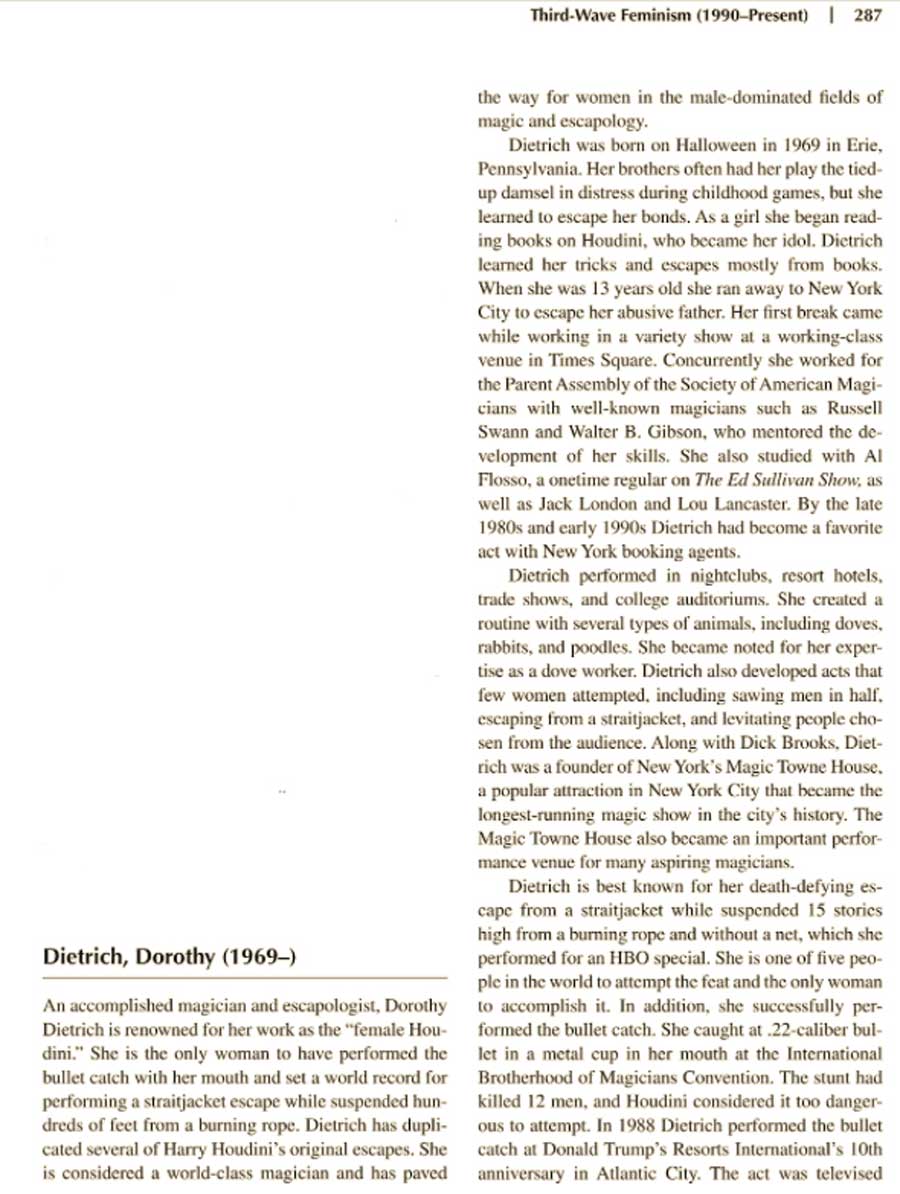 ---
---
DOROTHY DIETRICH
Female Houdini (tm), First Lady of Magic, Pioneer woman magician, escape artist


Columbia University Encyclopedia picked the 8 most noted magicians of the late 20th century
and included... Siegfried and Roy... Doug Henning... Harry Blackstone, Jr.,
David Copperfield..... and Dorothy Dietrich.

The Columbia Encyclopedia, Sixth Edition 2006
Columbia University Press




The Society of American bestowed her with the rare and best and highest award the Presidential Citation for her unique contributions to the art of magic.

Go to
Dorothy_Dietrich_US_Magazine Feature Story
Go to
Dorothy Dietrich First Woman To Do The Original Official Broken Wand Ceremony For Houdini.
Go to
First Lady Of Magic-Female Houdini-Weekly World News
Go to
the photo session that made one of her posters possible.
Go to
Ron Walotsky: the world famous fantasy artist who painted this poster. He also did covers for Conan the Barbarian.
For availability call The Houdini Museum at (570) 342-5555
Go to
Magician Dietrich with celebrities such as Robert Klein, Muhammed Ali, Tony Curtis, Kiss, Tom Snyder, Bill Cosby, John Lennon, Yoko Ono, David Copperfield, Doug Henning, etc
Go to
Magician Dietrich with some of her pet animals.
Go to
Magician Dietrich's exhibit at The Houdini Magic Hall of Fame in Niagara Falls before it burned down
Go to
Magician Dorothy Dietrich's performing and winning first prize at the New York City Book Fair and representing Harper Collins new book by author Kenneth Silverman, "Houdini!!!".
Go to
some of Magician Dorothy Dietrich's television appearances.
Go to
Magician escape artist Female Houdini (tm) Dorothy Dietrich doing a daredevil style upside down Straight Jacket Escape 150 feet above the earth suspended from a burning rope after being put in by police and security guards. The only woman in history to do this stunt.
Go to
Female Magician Dietrich doing the famous jinxed bullet catch stunt at Resorts International, the stunt that has killed twelve men, and injured many others. She is the first and only woman to ever catch a bullet in her mouth. Dare devil/magician Houdini backed away from doing this stunt!

Go to
Woman Magician Dietrich doing the Jinxed Bullet Catch Stunt for the International Brotherhood of Magicians.
Go to
The Famous Houdini Museum, of which Dorothy Dietrich is a director..




MagicUSA


The Society of American Magicians Cover story and 8 page biography about Dorothy Dietrich
Page 1 with pictures. Page 2 with pictures. Page 3 with pictures, Page 4 with pictures, Page 5 with pictures, Page 6 with pictures, Page 7 with pictures, Page 8 with pictures.

END OF DOCUMENT
If there is a problem with this page please contact webmaster and include the URL of the page and the problem. Thank you.
Things to do

Book a room in any city in the world | World's only Museum entirely devoted to Houdini | Pocono Mountains Directory | Pocono Mountain Index | Coupons for Pocono Mountains attractions | Discounts in the Poconos | Poconos Leading Guide | Comprhensive directory of Pocono Mountain NE PA Hotels | Restaurants in the Mountains of the Poconos | http://Everything important to do in Scranton PA | Find and Reserve throughout the world | Haunted events throughout the world that run most of the year. | Local radio personalities Dorothy Dietrich and Dick Brookz | NE PA Progressive Radio staion | Birthday party entertainment, shows, facilities, NE PA | NEW! Dell O'Dell Famous lady magician of the first half of the 20th century. 1897-1962. I Joan Brandon.com Lady magician and famous hypnotist of the mid 20th century. 1914-1979.

Web Sites of Interest

CityDirectories | Houdini.org | Pocono.net | Pocono.org | PoconoCoupons | PoconoDiscounts | PoconoFunGuide | PoconoHotels | PoconoRestaurants | PoconosHoneymoon | http://Scranton.org | WhereToFindTravel | Haunted events throughout the world that run most of the year. | Ghost Attractions Tours and Walks in Scranton, Poconos, Wilkes Barre PA. | The best place for birthday parties of all ages in Scranton, PA | The Dorothy Dietrich and Dick Brookz Show | NE PA only Talk Radio staion | Dell O'Dell Woman magician of the first half of the 20th century. 1897-1962. I Joan Brandon.com Lady magician and famous hypnotist of the mid 20th century. 1914-1979.
Website of Scranton Fun Magical Mystery Entertainer Dick Brookz
© 1993 - by magicusa. Except for reviews, no part of any of this document may be reproduced in any form, without written permission by the authors. The graphics have been retouched, computer enhanced and resized by the authors. Here is our email address. We are more likely to get it if you put the supject in Caps.


Philadelphia Pennsylvania Pittsburgh Erie Reading Berks County Scranton Lackawanna County Bethlehem Lehigh and Northampton Counties Lehigh Valley Lancaster, Levittown, Bucks County Altoona is a city in Blair County Harrisburg Penn Hills Allegheny County Wilkes-Barre Luzerne County York State College Centre County Chester Delaware County Bethel Park Mt. Lebanon Radnor Township Williamsport Lycoming County Shaler Township Monroeville Drexel Hill Upper Darby Township McCandless Plum Back Mountain New Castle Lawrence County Easton is a city in Northampton County Lebanon McKeesport Hazleton West Mifflin Wilkinsburg Municipality of Murrysville Westmoreland County King of Prussia Upper Merion Township, Montgomery County Carlisle is a borough in Cumberland West Chester i Chambersburg Cumberland Valley Great Appalachian Valley. Franklin County Hampton Township Sharon is a city in Mercer County, Hermitage Lansdale Willow Grove Montgomery County Greensburg is a city in Westmoreland County Pottsville Schuylkill County, Washington Mountain Top Newark New Jersey Essex County. Jersey City Hudson County Paterson Passaic County, Elizabeth Union County, Edison Township Middlesex County Toms River Ocean County, Trenton Mercer County. Camden Clifton Passaic County East Orange Essex Passaic Union City Hudson County, Bayonne Irvington Vineland Cumberland County, Union Wayne Passaic County, New Brunswick, Plainfield Bloomfield Perth Amboy East Brunswick West New York West Orange Hackensack is a city in Bergen County, Atlantic City Kearny Sayreville Linden Teaneck Montclair Hoboken North Brunswick Lakewood Ocean County, Belleville Ewing Pennsauken Fort Lee Orange Fair Lawn Bergen